STICKLEWORT AND FEVERFEW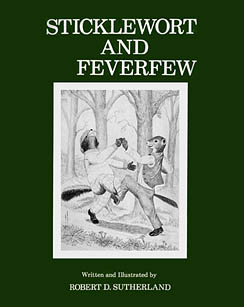 Robert D. Sutherland (A Novel)
The Second Edition (2020) is published electronically on this website, and the entire text and all 74 of its illustrations may be downloaded as a PDF file free of charge by clicking on the following link: Sticklewort and Feverfew

(46 Mb).
Received the Friends of American Writers
1981 Juvenile Book Merit Award
for author/illustrator

(First Edition, 1980) 355 pp.
(with 74 fully rendered pencil illustrations by the author, and a map)
ISBN: 0-936044-00-4 (hardcover)
ISBN: 0-936044-01-2 (paperback)

"Sutherland's first novel is one of those children's books which are not really for children. Alice in Wonderland, Huck Finn, Animal Farm, and ...Wind in the Willows are the best known examples of books that talk the language of child, indulge themselves in the high adventure and fantasy of the child's story, but speak really to the adult reader. Like those four classics, Sticklewort and Feverfew is a fable for our times. ... Like the sixties it asserts magic, humanism, the little people, direct action, and general obstructionism against what used to be called The Creeping Meatball. I love it. I want my kids to grow up believing in it. ...Sutherland's book ... is a delightful and a necessary reminder ... nicely written and nicely printed, a timely book of a book."
— David Pichaske

"Sticklewort and Feverfew ... bills itself a non-sexist ecological novel. It is. It is also a political novel. But it is much more. Sutherland is a linguist, and such a joy in words and syntax has been a rarity since Carroll's Alice. ... And as Carroll's vision bore the 19th Century's philosophical concerns with perception and language as inventors of culture, Sutherland's bears the 20th Century concern with the loss of language and thus our very creatureness to a world of machines and self-perpetuating bureaucracies. He plays with language seriously, like someone who knows that the future depends on it but who doesn't let that stop him from having fun. ... The characters, animal and human ...never come apart or step out of themselves. Parker Packrat is true to his packrat nature and cannot help but spot the beauty in any piece of junk and cart it home to his ever-increasing junk sculpture. ... after the many tests of the human and animal spirit in the book (what greater test is there than running smack into government red-tape, mazes of bureaucratic profit-motive, and the mentality of automation), after finally taking direct action that involves everyone in the community...the novel ends with Parker's junk sculpture, towering twenty levels into the sky, a story in used objects, a town history. ... The language enriches, the style never slips, the non-sexist values are natural. It tells a lively story, full of heart, guts, and tough and tender strength."                                  
— Lucia Cordell Getsi


Four illustrations from Sticklewort and Feverfew. Click on an image to see a larger version.